Anna McGrath
Founder and President
"'Polite' and 'nice' have outlived their usefulness. Strict hierarchies kill innovation and engagement. It's time to hit the reset button and start thinking about making a fundamental shift in the way we structure our organizations."
– Anna McGrath
Find out more about Anna
Anna is a proven thought leader who has pioneered transformational business practices for over two decades. As a dedicated agent of conscious change, she lives and breathes the values and practices of purposeful, positive impact. She's passionate about awakening individual engagement and supporting thriving, purpose-driven leaders and organizations.
Her big vision: That every individual may show up fully, live their purpose, and share their creative genius in service of themselves, others, and the planet.
Her expertise: Conscious behavior practices. The Holacracy® Operating system and governance structure. Strategizing triple bottom line business plans (People, Profit, and Planet). Creating and implementing innovative, impactful, and customized solutions for clients. Staying present in the thick of big emotions. Lasering in on the key factors for positive change in leaders and teams. Building and revitalizing authentic business cultures.
Her real-world chops: Over 20 years of organizational development, senior corporate experience, and sought-after public speaking engagements. Before launching WonderWorks, Anna gained extensive experience in finance and sports management. During her time in the golf industry, Anna spearheaded state-of-the-art updates for a dramatic improvement in sustainability and eco-friendliness.
Her credentials and affiliations:
Holacracy® One Licensee, Certified Coach, and Certified Facilitator
Hendricks Institute Certified Leadership and Transformation Coach
Exercising Influence Certified Coach
Focused Holistic Facilitation Advanced Certification
Emotional Intelligence Training Certified
Mediation Training Certified
Myers Briggs Qualified Instructor
DDI Certified Leadership and Management Development Facilitator
PGA of America Business School Graduate at top 5% of Class
Pachamama Alliance San Francisco Community facilitator and leader
Conscious Capitalism Bay Area Chapter Co-chair.
Her genius: Sourcing, implementing, and dynamically steering business practices that invite authentic connections, spark autonomy, and align with the highest-leverage concerns.
Her special sauce: Anna's driven by appreciation, authenticity, and weaves playfulness into every strategic move. Her focus and presence open up wide vistas of possibility, creativity, and innovation. She blends intensity with play, challenge with ease, and real world savvy with soulful vision.
Her partner, Margaret, brags on her: "I have never seen anyone able to translate love into business the way I experience Anna doing. She's an off-the-charts problem solver. She's an explorer, a pioneer, constantly opening up space for another solution to show itself. It's simply amazing to see her in action."
Her favorite things: Transformative hugs. Advocating social justice. Star Trek: Voyager. Chocolate crème éclairs.
Invite Anna to Speak at Your Event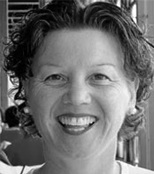 Margaret Ryan
Co-Founder and CEO
"I love, love, love supporting conscious men and women in business. I want them to rock the world awake and become role models for the next generation of conscious capitalists."
– Margaret Ryan
Find out more about Margaret
Margaret holds a glowing reputation as an agile, forward-thinking explorer. She has spent years bringing conscious business practices and tools into a variety of industries and environments (often for the first time), advising executives, CEO and Founders and supporting conscious, engaged, and strategically thoughtful teams. Along the way, her can-do optimism has driven her to accomplish a number of firsts and break her share of glass ceilings. Margaret is thrilled by the potential conscious business has for creating positive impact in the world.
Her big vision: That everyone may feel alive and inspired to do more than they thought they could.
Her expertise: Supporting cultures of wellness and authenticity. Designing custom leadership development programs. Revitalizing teams through the implementation of Holacracy® and embodying conscious leadership practices. Executive coaching and advising, ideation sessions, and strategy meetings. Asking the skillful questions that invite others to drop into their core values, express them, and believe that they truly can achieve what they most want. Inviting rich collaborations that create win-win-win business opportunities and personal growth.
Her real-world chops: Margaret boasts over two decades of leadership and business consulting experience. She's been an entrepreneur since the moment she left college, first at a UK media agency, then in independent film and startups in technology and sports management. She was the first female PGA Director for Arnold Palmer Golf Management, where she managed 500+ employees.
Her credentials and affiliations:
Holacracy® One Licensee, Certified Practitioner
Hendricks Institute Certified Leadership and Transformation Coach
Over 2500+ hours of coaching education
Conscious Capitalism Bay Area Chapter President
Her genius: Speaking bold truths with authenticity, appreciation, and humor. Rapid, flexible ideation. Storytelling.
Her special sauce: Skipping the baby steps and going straight for the big leaps. (And identifying the highest-leverage leaps.) Melding strategy and levity. Innovation, agility, and bridge-building.
Her partner, Anna, brags on her: "I love Margaret's insatiable, we-can-do-anything explorer energy. She's a natural storyteller and outrageously creative: whether she's writing a novel, coaching a CEO, or crafting a business strategy, she finds ways to bring people from where they are to their ultimate destination. And she's an absolute love sponge with an enormous skill for appreciation."
Her favorite things: Organic raspberries. Moet-Chandon Champagne. Choice drawing pencils. Love, fun, and lots of them.
About Our WonderWorkers
At WonderWorks, we believe in walking our talk – and one of the ways we do that is by operating on Holacracy®. By supporting our co-founders' philosophy to unleash every WonderWorker's genius, over the past three years Holacracy® has created an environment for our company that facilitates high levels of autonomy, creativity and innovation.
And we love it.
Speaking of what we love…
Our team is the cornerstone of our consultancy.
With our culture and operating structure, we attract and hire the very best trainers, facilitators, coaches, business advisors, researchers and strategic advisors.
Leveraging each team member's strengths, an agile decision-making process, a transparent structure and the most adaptive tools on the market, the WonderWorks team is responsive, diverse, engaged, and fulfilled. That's how we do our best work.
And that's why WonderWorkers rock!