High-Performing Operational Structures
WonderWorks partners with 21st century leaders and leadership teams to customize self-organizing structures, in addition to Holacracy®. 
We Custom Fit Self-Organizing Structures
WonderWorks knows there is not a one size fits all approach when adopting a self-organizing structure. Every CEO, Founder, and Executive Director's needs are different, some decide on Holacracy® and others select a custom designed self-organizing structure. With global experience designing and implementing self-organizing structures, WonderWorks partners with you and your stakeholders to select a system that matches your unique culture and business goals.
Exploring Self-Organizing – Next Steps
WonderWorks offers the Exploring Self Organizing workshop to prepare executive teams and stakeholders to make informed decisions about their next steps with self-organizing. We see organizations get derailed in self-organizing, because their people aren't prepared or trained. We created this workshop to give your team the essential requirements for supporting a healthy self-organizing structure and to discuss your organization's implementation options.  To date all of WonderWorks past clients are still using their custom designed self-organizing structures.
Your team will learn/discover:
The different types of self-organizing systems that are available to you and the reasons you would choose one above another
The types of organizational challenges that self-organizing resolves
How to participate in experiential tactical and governance meetings processing your real work
How to identify and process your organization's implementation challenges
What types of skills and behaviors your implementation team members would need
Clear next action steps to continue exploration or start implementation
"There were many aspects of self-organizing that we previously did not understand, which became more clear, and I valued pinpointing the specific issues that are the highest priority for us to work on."

Self-Organizing Workshop Participant
VuWall
Contact Tanya@ywonderworks.com to schedule an Explore Self-Organizing Workshop.
WonderWorks – Real World Implementations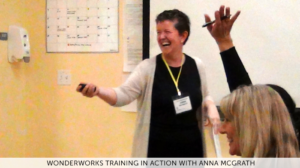 As the first Holacracy licensee in the United States, WonderWorks was invited to be part of Zappos implementation team and trained over 50 of their Holacracy facilitators. We have implemented Holacracy and customized self-organizing structures into a diverse group of organizations, such as American Express Global Business Travel, Dev BootCamp, Pantheon Inc, and Kahler Financial. We provide all the support and training your organization will need to quickly benefit from new operational practices. In partnership with your team, we'll create a smooth roll out plan that generates positive momentum and lasting, scalable impact.
Following are some of challenges and opportunities that WonderWorks helps organizations utilize self-organizing for:
Increase engagement levels across all teams

Build a culture of "respons-agility" (a culture of individuals who take responsibility for timely, healthy, and adaptable workplace action.)

Increase transparency around roles and accountabilities – allow individuals to have autonomy over their work and an understanding of when to collaborate.

Establish meeting practices and operational processes that tap into the collective intelligence of stakeholders to drive innovation